Team Building
These days, it seems as though everyone and their brother offers a team-building program. How can you tell if you're spending your money wisely? For starters, you could ask some of the groups who have used our program.
We put together the A.B.L.E. (Adventure Based Learning Experiences) Program years before most people had heard anything about the dynamics of working together as a cohesive unit to solve problems.
A.B.L.E. was designed to address the problems we encounter everyday as we interact within group situations such as work, sports teams, and community organizations. Problems can range from interpersonal conflict to lateral thinking skills to time management, and everything in between.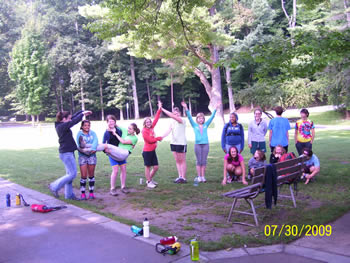 Our program is effective because it is tailored to each organization that participates. We meet with a facilitator from your organization and customize a program to target your specific issues. At the end of the activity your group will receive a written evaluation of their performance. Not only do we want everyone to have fun; we want to ensure it was a learning experience as well.
We offer a wide variety of exercises and activities to select from. All have targeted educational objectives, designed to address the needs of the user group. Call for more information or to arrange for a presentation.